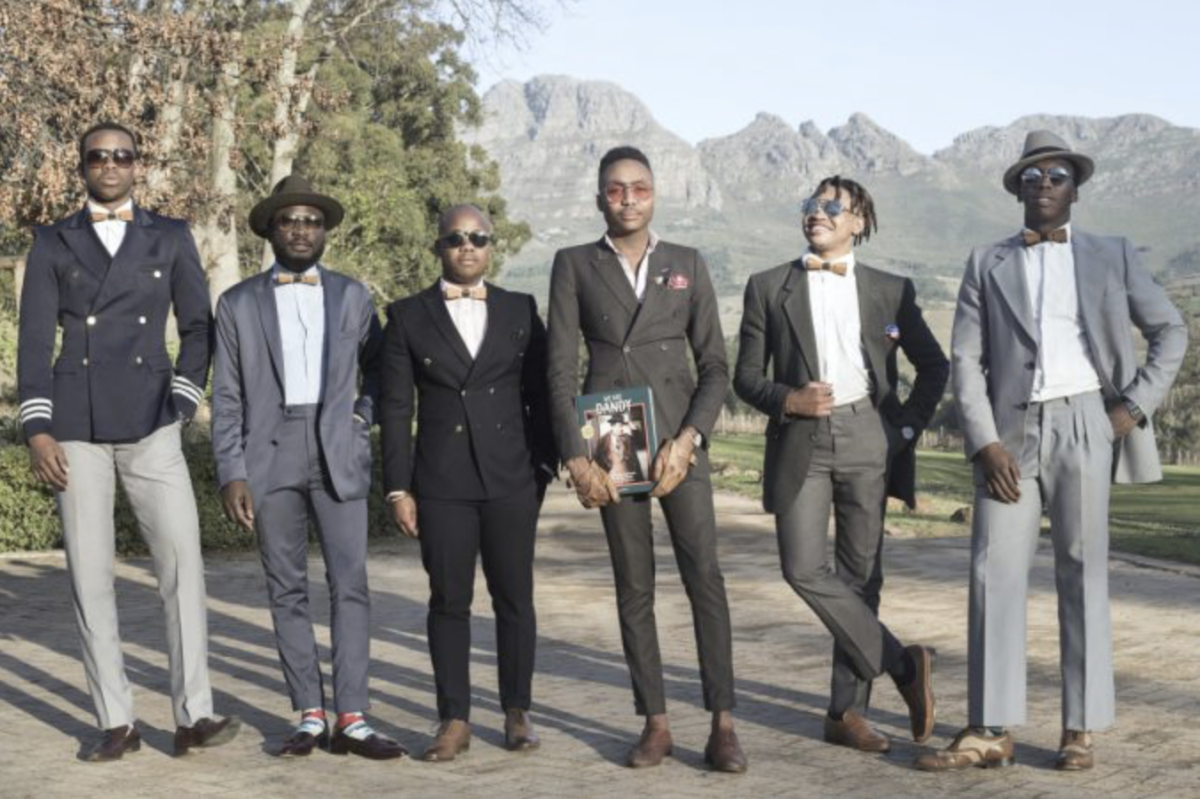 Dandies in focus:

The League of Extraordinary Gentlemen
Dandies in focus:

The League of Extraordinary Gentlemen
Does good style have to have a fat cash account? Not at all. At least that's what the Congolese sapeurs and London chaps prove. With the dandies of today, origin and financial status do not matter, only elegance, sophistication and poise.
The promenades in the city call every Sunday. In Brazzaville, capital of the Congo, the so-called sapeurs set out to put on their treasure-guarded suits. During the week they work for the railways, are technicians or taxi drivers. Life is hard, there is barely enough money to make ends meet with rent and groceries. But on Sundays they break out a bit, meet well-dressed in bars or cafés, and enjoy admiring looks. The Sapeurs (derived from the French 'bien sapé' for 'well dressed') are men who have been spending their last bucks on fine men's suits from Italian or French designer brands since the 1960s. Whether you go into debt or miss out on hot meals – every means seems right to get hold of the coveted wardrobe.
Gentlemen on dirt roads: The look should be as eye-catching as possible.
Numerous snapshots circulating on social platforms show how much their impeccable appearance contrasts with their poor life circumstances. Meticulously groomed men in pink suits walk down unpaved, dusty streets past shacks made of corrugated iron. In addition to designer brands, bright colors are typical of the sapeur style. Canary yellow, pistachio green or sky blue are popular nuances. The look should be as eye-catching as possible, but must not combine more than three colors. Whistles, hats, walking sticks and umbrellas serve as extravagant accessories. Big cigars are essential; because there is no money, they are not even lit.
Everything just for show?
The Sapeurs are practically a relic from the colonial era. When they slip into their fine thread, they also take on a different role at the same time – in the tradition of postcolonial parody. The repertoire of a genuine sapeur includes a whole range of facial expressions, gestures and poses, which are always intended to demonstrate perfect elegance and sometimes even appear theatrical. Examples are sapeurs who stop a taxi in the blazing sun with an open black umbrella. For their performance, the Sapeurs are celebrated like stars by those around them. Everyone knows them, everyone greets them. It's not just about their looks and attitude. It's about more. Much more. A sapeur is considered a man who is master of his destiny against all odds. A sapeur has pride, is a moral authority.
Dandy cult in London: A chap has to take off his hat when greeting and saying goodbye!
The London chaps can be described as brothers in spirit. They too indulge in the gentlemen's style of the early dandies, regardless of their origins and financial background. Sophistication and politeness have the highest status for them. Because a society without good manners and decent headgear means for them a society on the brink of moral collapse – at least that's what it reads in their manifesto, published by Chap Magazine around Ur-Chap Gustav Temple. A chap has to take off his hat when greeting and saying goodbye, and offer a seat to a lady on the bus. Smoking pipes and drinking sophisticated cocktails are also essential to the lifestyle of a real chaps. While the sapeurs stick to designer brands and unusual color combinations in their look, tweed is the ultimate for the chaps – even though the mainstream is a nightmare for both groups.
Protest against the mainstream
This became quite obvious in London, for example, when the company Abercrombie & Fitch was to move into the traditional Savile Row with its many ateliers and men's tailors. Both Chaps and Chapettes, the female counterpart, organized a demonstration against the mainstream and the leveling of inner cities with great publicity. Of course, the opening of the clothing chain could not be prevented, but it was nevertheless possible to set a memorable sign. And the true dandy and gentleman cult is all about punctuation – apart from hipster movements that are only too happy to play with dandy attitudes. At a time when many things are characterized by interchangeability and indifference, both sapeurs and chaps open our eyes to moral values and the fine art of savoir-vivre. Indeed, a Sapeur would say that he does not invest his money simply in clothing, but in the well-being of his entire community. Apparently this is not far-fetched. After all, it is not for nothing that neighbors and friends call the Congolese birds of paradise the pride of the entire district.
Check out this video to learn more about the Congo Dandies:
FASHION TODAY MEN X STYLE & THE GANG
We cooperate! This article is published in cooperation with the online trade magazine www.fashiontoday.de. FASHION TODAY is the only German-language online trade magazine in the B2B market that is exclusively dedicated to menswear. The editors deliberately avoid daily news in order to clear their heads for well-researched magazine journalism.
Discover more