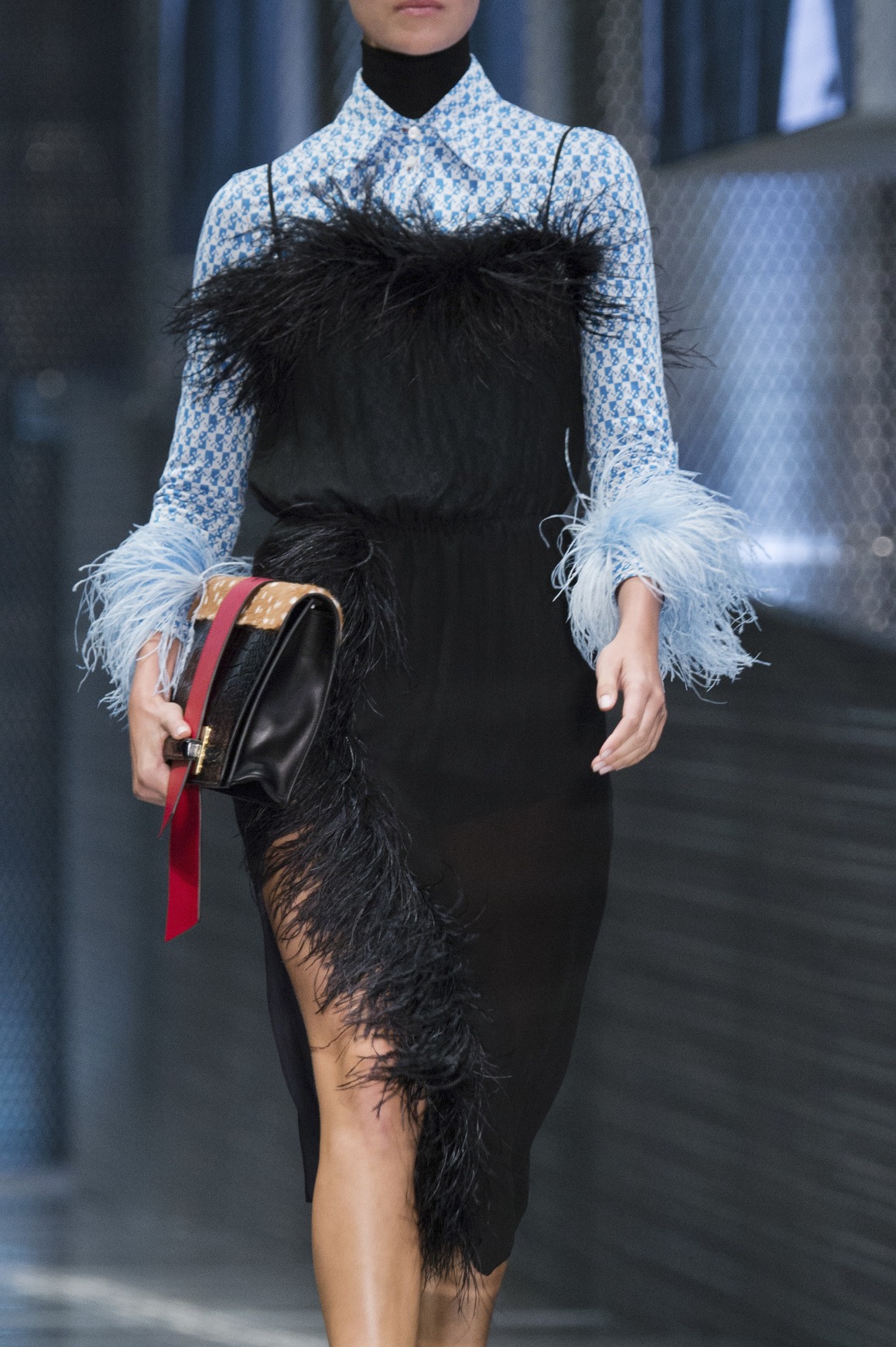 TRENDSPOT
Feathers in Fashion
They have recently fluttered around the hems of jeans, adorned tops and shoes or dangle from earrings – feathers are making a comeback as a trend topic. And not just in fashion. Even in interior design, feathers draw attention to themselves, primarily as decorations for lampshades or wall decorations. Miuccia Prada is likely to be largely responsible for this development. As part of the Prada Spring / Summer 2017 collection, the Italian designer presented eye-catching feather applications and details on hems and accessories. Feathers are by no means new as a fashion theme.
Already at the end of the 18th century, in the late rococo era, the profession of Plumassier emerged. The robes of the nobles at the French court at Versailles were then influenced by the English court fashion, which was even more opulent and decorated than was the case in previous times. The Plumassier decorated hats, umbrellas, fans, collars and cuffs with feathers, particularly popular were colorful, exotic variants of parrots or birds of paradise. The incorporation of ostrich feathers into magnificent wigs was also very popular. And bird dresses played a special role not only during the Rococo period. With regard to modernity, the 1920s in particular are almost unthinkable without feather stoles, feather-decorated headbands or feather-hemmed dresses.
In addition to relevant creations by well-known designers, the Americana and Boho trends nowadays also help to give springs a new boost. Based on Wild West and Indian Spirit attitudes, in connection with the hype about festival events, looks come through that tie in with original, ethnically shaped images. However, it should be mentioned that the current fashion trend – with increasing demand for eco fashion and sustainability – is not without criticism. Animal rights activists complain about the conditions under which birds sometimes have to lose their feathers.
Sie flattern neuerdings an Jeans-Säumen, schmücken Tops und Schuhe oder baumeln an Ohrringen – Federn feiern als Trendthema ihr Comeback. Und dies nicht nur in der Mode. Selbst im Interior Design machen Federn auf sich aufmerksam, vornehmlich als Verzierung von Lampenschirmen oder Wanddekoration. Wesentlich mitverantwortlich für diese Entwicklung dürfte wohl Miuccia Prada sein. Die italienische Designerin präsentierte im Rahmen der Prada Kollektion Spring/Summer 2017 Aufsehen erregende Feder-Applikationen und -Details an Säumen und Accessoires. Dabei sind Federn als Modethema keineswegs neu.
Bereits zum Ende des 18. Jahrhunderts, zur Epoche des Spätrokoko, entstand der Berufsstand des Plumassier (zu dt.: Federschmücker). Die Roben der Adligen am französischen Hof von Versailles wurden damals durch die englische Hofmode beeinflusst, die noch opulenter und geschmückter ausfiel, als dies in Zeiten zuvor noch der Fall war. Der Plumassier verzierte Hüte, Schirme, Fächer, Kragen und Manschetten mit Federn, besonderer Beliebtheit erfreuten sich dabei farbenprächtige, exotische Varianten von Papageien oder Paradiesvögeln. Sehr begehrt waren auch Einarbeitungen von Straußenfedern in prächtige Perücken. Und nicht nur zur Zeit des Rokoko spielten Vogelkleider eine besondere Rolle. Im Hinblick auf die Moderne sind wohl insbesondere die 20er Jahre geradezu undenkbar ohne Federstola, federgeschmückte Stirnbänder oder federgesäumte Kleider.
Neben einschlägigen Kreationen namhafter Designer verhilft heutzutage gemeinhin auch der Americana- sowie Boho-Trend dem Thema Federn zu neuem Auftrieb. In Anlehnung an Wild West- und Indian Spirit-Attitüden kommen in Verbindung mit dem Hype um Festival Events Looks durch, die an ursprüngliche, ethnisch geprägte Bilder anknüpfen. Es bleibt allerdings zu erwähnen, dass der Modetrend aktuell – bei steigender Nachfrage nach Eco Fashion und Nachhaltigkeit – nicht ohne Kritik auskommt. So beanstanden Tierschützer die Bedingungen, unter denen Vögel mitunter Federn lassen müssen.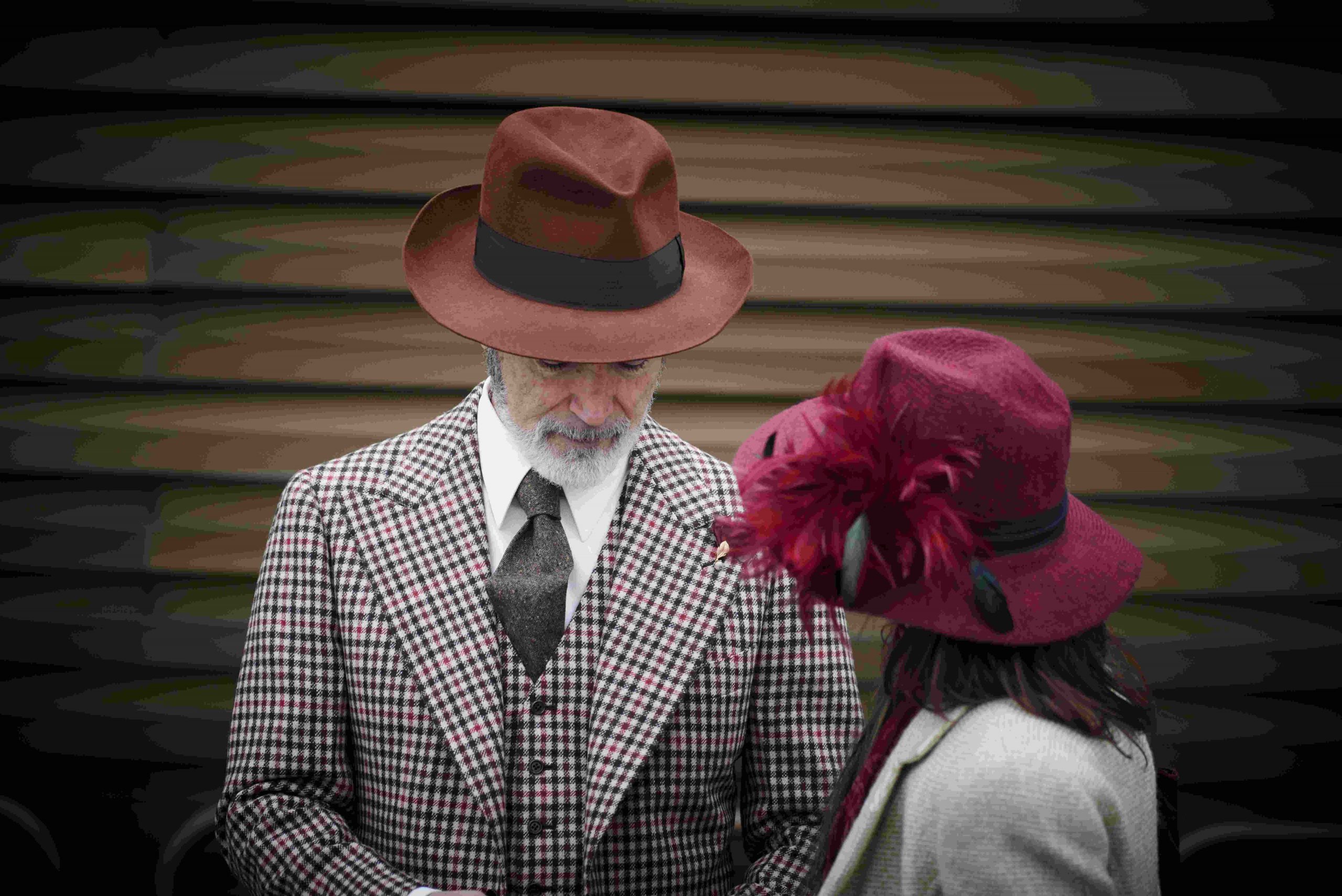 Discover more