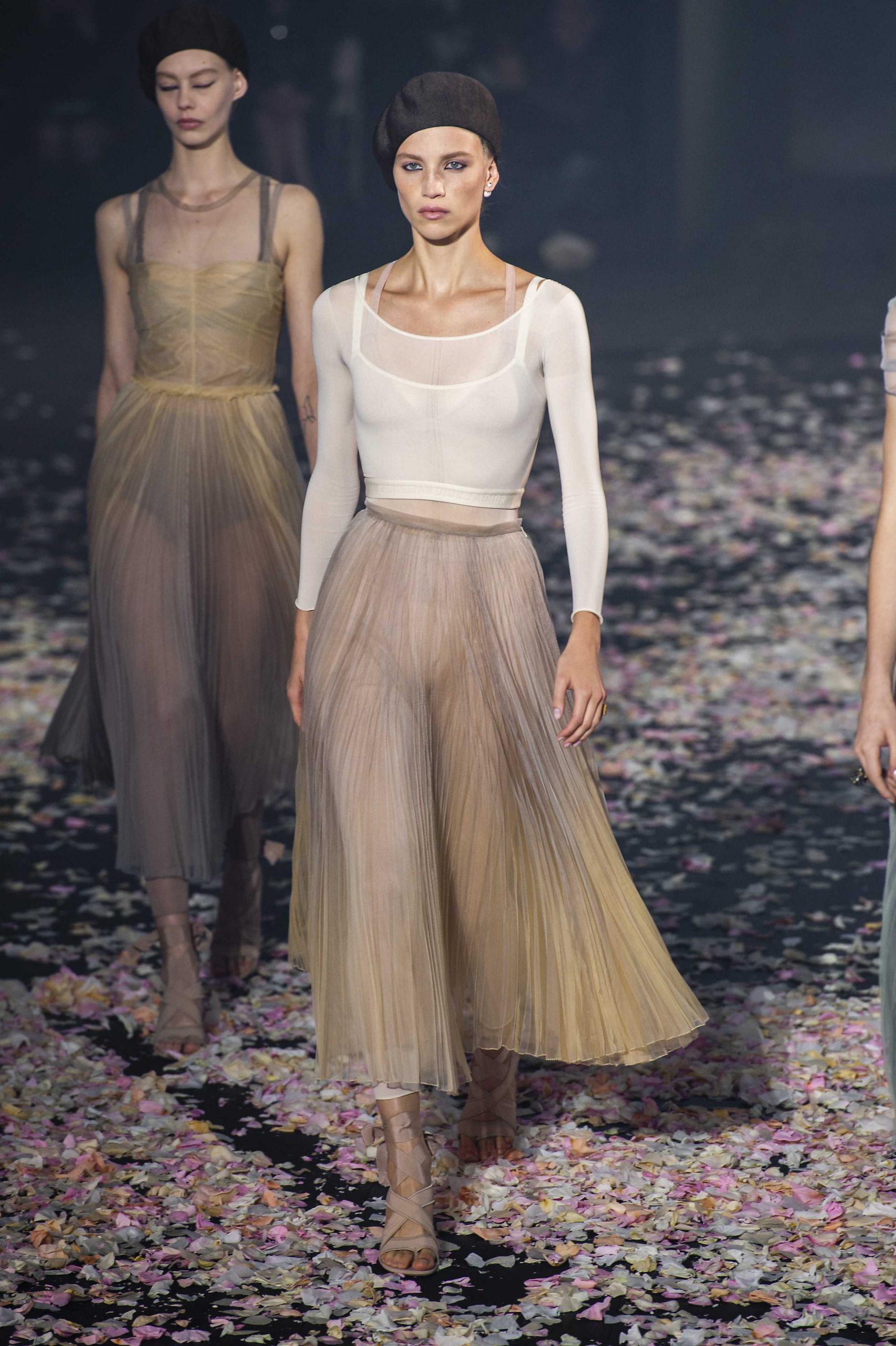 Dance has always influenced the fashion world. Last but not least, the cinema industry provides inspiration – especially with productions such as Black Swan and La La Land. The iconic dance performances by flash dance actress Jennifer Beals in the 80s or Hollywood legend Fred Astaire in the 30s, who alongside Ginger Rogers or Rita Hayworth – with their elegant, wide-swinging robes – achieved world fame, are also unforgettable.
It is probably the artistic movements that are so fascinating: Ballet in particular has already been the inspiration for many collections. Classical dance combines gentleness and strength, delicate sensuality and a powerful temperament. This diversity fits in with an image of women that is simply not smooth and one-sided. Rather sensitive and at the same time stubborn. Especially at the time of the #metoo / post- #metoo movement, this means a statement in favor of femininity.
At Christian Dior, dancers opened the show for the spring / summer 2019 season. The looks that could be seen after the dance interlude featured dresses inspired by ballet, delicately flowing and transparent. There were also finely cut, light trouser suits with sporty accessories such as belt bags. Wide-swinging, shimmering skirts were reminiscent of flamenco dresses in the silhouette, while a dress with a straight cut and fringes brought the Swinging 20s to life.
The dance-inspired looks thrive on light, shimmering, silky materials. The silhouette is less boxy and static, rather natural, body-hugging lines are in the foreground. Transparent optics alternate with subtle layerings. Ribbon and bow details as well as flounces and pleated blinds play a role. In addition, the overall impression is mostly characterized by powdery tones and non-colors. Purism is decisive, at most very subtle pattern images are included.
Seit jeher beeinflusst das Thema Tanz die Modewelt. Dabei sorgt nicht zuletzt die Kinoindustrie für Inspiration – vor allem mit Produktionen wie Black Swan und La La Land. Unvergessen sind dabei auch die kultverdächtigen Tanzeinlagen von Flashdance-Darstellerin Jennifer Beals in den 80er Jahren oder Hollywood-Legende Fred Astaire in den 30er Jahren, der an der Seite von Ginger Rogers oder Rita Hayworth – mit ihren eleganten, weit schwingenden Roben – Weltruhm erlangte.
Es sind wohl die kunstvollen Bewegungen, die so faszinieren: Insbesondere das Ballett stand bereits für viele Kollektionen Pate. Der klassische Tanz vereint Sanftheit und Stärke, zarte Sinnlichkeit und kraftvolles Temperament. Diese Diversität passt auf ein Frauenbild, das sich eben nicht glatt und einseitig darstellt. Vielmehr sensibel und zeitgleich eigensinnig. Vor allem zu Zeiten der #metoo-/ Post-#metoo-Bewegung bedeutet dies ein Statement pro Femininität.
Bei Christian Dior eröffneten Tänzer die Show zur Saison Frühjahr/Sommer 2019. Die Looks, die nach der Tanzeinlage zu sehen waren, präsentierten mitunter vom Ballett inspirierte Kleider, zart fließend und transparent. Ebenso zeigten sich fein geschnittene, leichte Hosenanzüge mit sportiven Accessoires wie Gürteltaschen. Weit schwingende, schimmernde Röcke erinnerten in der Silhouette entfernt an Flamenco-Kleider, während ein Dress mit geradem Schnitt und Fransen die Swinging 20s aufleben ließ.
Die vom Tanz inspirierten Looks leben von leichten, schimmernden, seidigen Materialien. Die Silhouette präsentiert sich weniger kastig und statisch, vielmehr stehen natürliche, körpernahe Linien im Vordergrund. Transparente Optiken wechseln sich mit dezenten Layerings ab. Bänder- und Schleifen-Details sowie Volants und Plissees spielen eine Rolle. Zudem ist der Gesamteindruck zumeist von pudrigen Tönen und Nichtfarben geprägt. Purismus ist bestimmend, es fließen höchstens sehr dezente Musterbilder mit ein.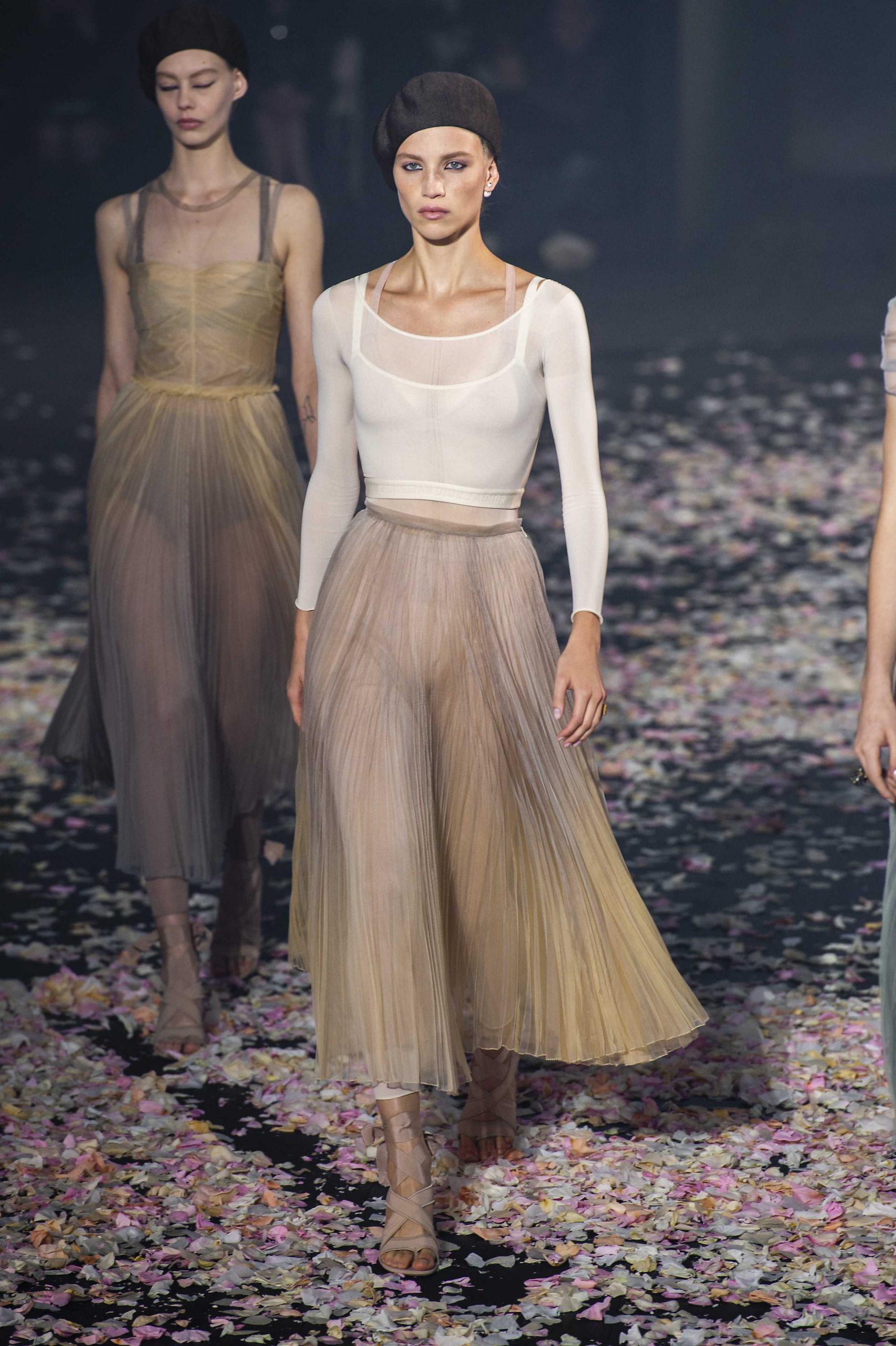 Discover more