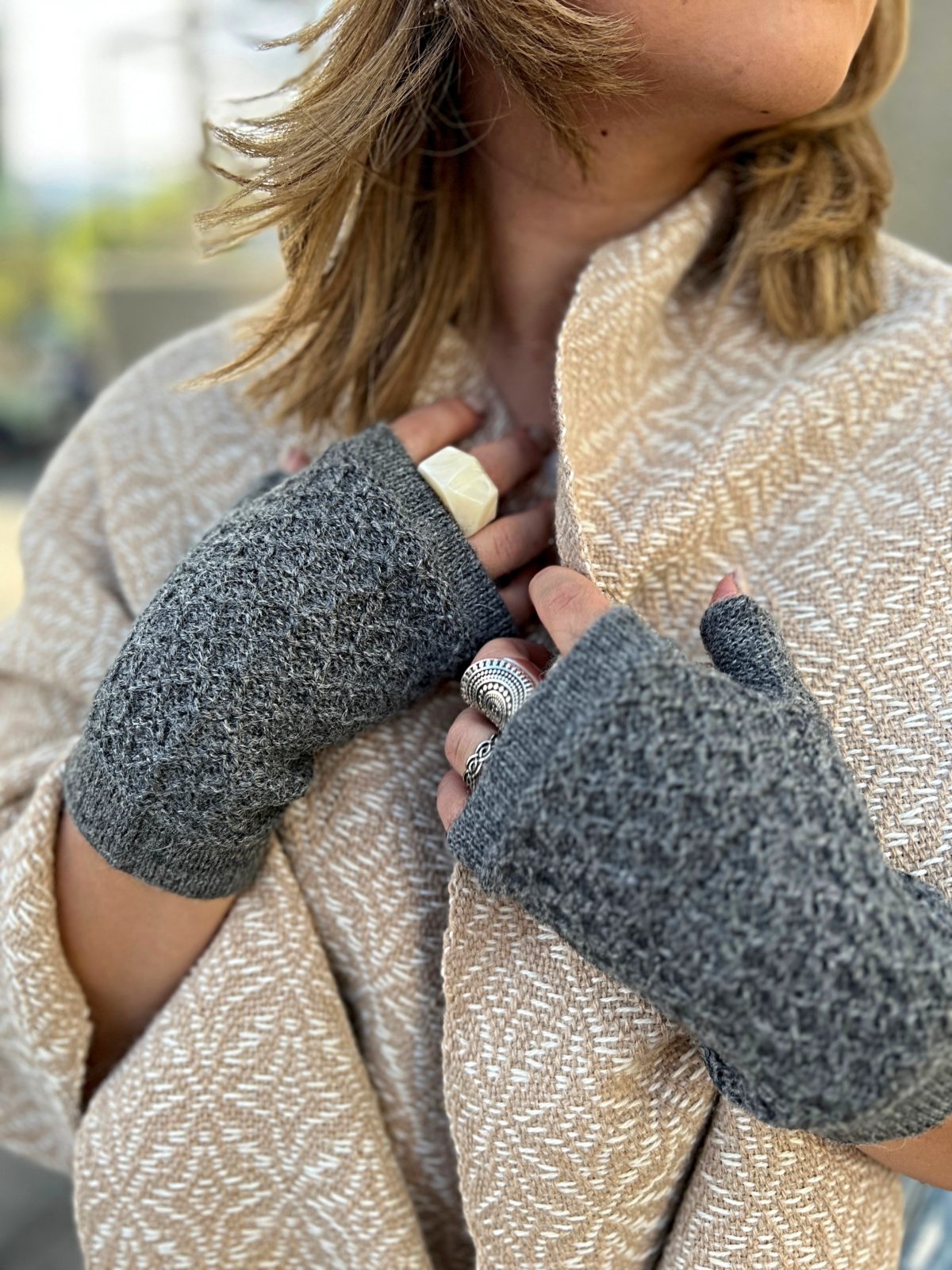 TINKU
Spreading the Bolivian textile heritage to create local impacts.
TINKU
BOLIVIAN SPIRIT FOR A CHANGE
The TINKU brand has made it its mission to preserve the Bolivian textile heritage. In fair production, basics such as scarves, hats and hand warmers are made from high-quality alpaca wool in close cooperation with craftsmen, cooperatives and local designers. The pieces are handcrafted – handknitted and handwoven – by indigenous artisans from the Andes who come from socially disadvantaged backgrounds. We spoke to Eliana Garrón Liendo, founder of TINKU, about her motivation and difficulties surrounding the production.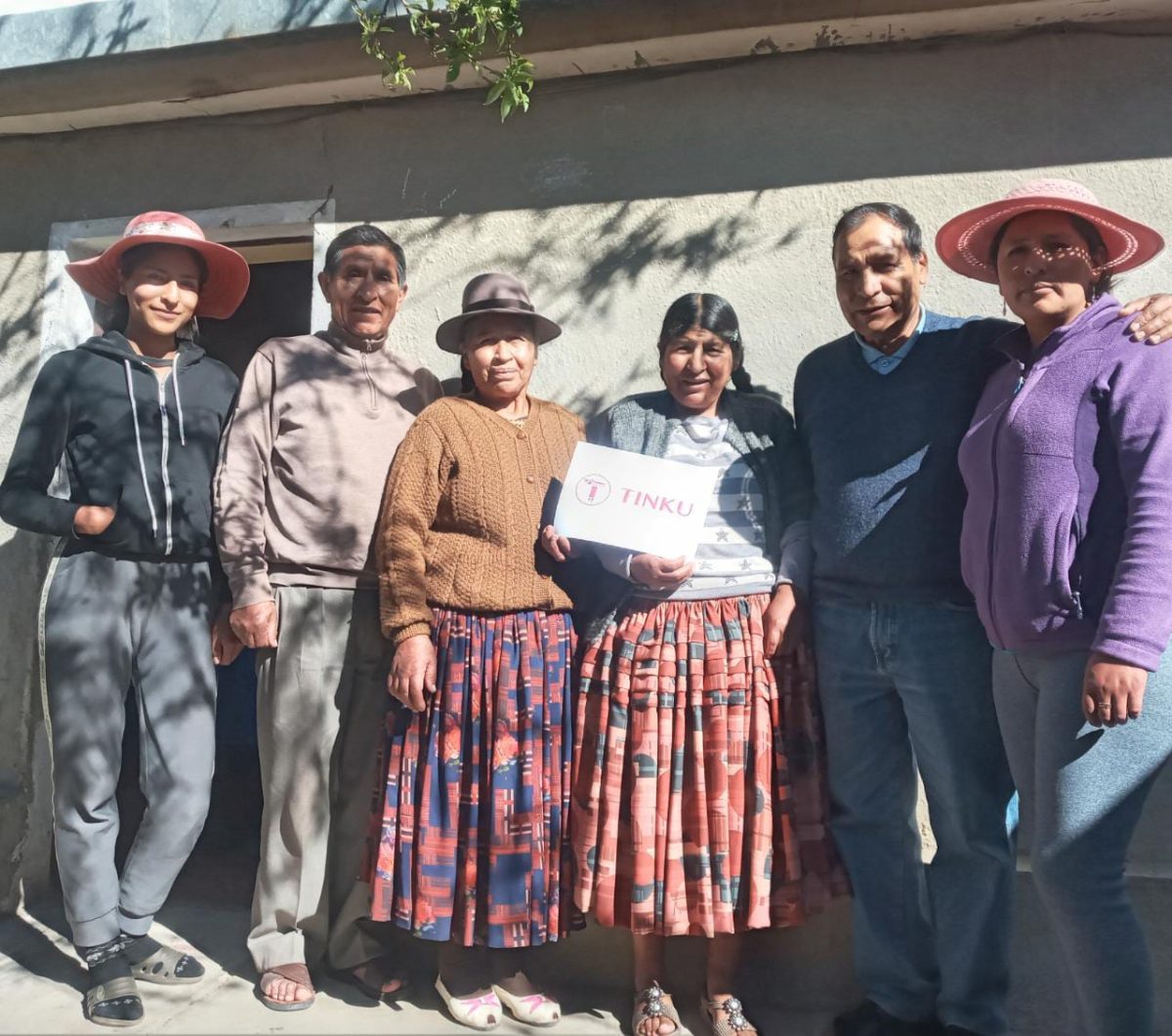 What is behind the brand project TINKU?
The mission of our project TINKU is to spread the Bolivian textile heritage by connecting artisans and weavers with the world. We are based in Neufahrn near Freising, Germany, and Oruro, Bolivia, and as a company we stand for fair fashion, which for us is not just about sustainability, but about the obligation to support artisans, cooperatives and local designers. Our inspiration is the vibrant Bolivian culture. All our products come from Bolivia and are handmade by indigenous artisans from the Andes who come from socially disadvantaged backgrounds. The products are hand-woven and hand-knitted using traditional techniques. Our vision is to establish TINKU, the brand for Bolivian handmade products from 100% natural fibers such as alpaca, on the market in Germany while at the same time creating jobs in Bolivia and having a real local impact.
What does social commitment mean to you?
For us, social commitment means above all ensuring jobs and income for our weavers by offering finished products and emphasizing the added value of the value chain in Bolivia. We work with the only cooperative for the production of alpaca wool in the hands of the Bolivian rural people. The initiative emerged from a coalition of 1,200 llama and alpaca breeders from the Bolivian Altiplano. Its main objective is to promote the sustainable development of llama and alpaca farming through the spinning and marketing of their wool and the products made from it. This cooperative is also the alpaca wool supplier for our other producers. However, last year was very difficult for us. The management of the COPROCA cooperative has faced many problems and has had to limit its operations. Nevertheless, we managed to find a solution directly with weavers, so that we could continue to design, manufacture and export products. In this way, we were also able to secure the income for our craftsmen, which unfortunately was no longer guaranteed through the partnership with the cooperative.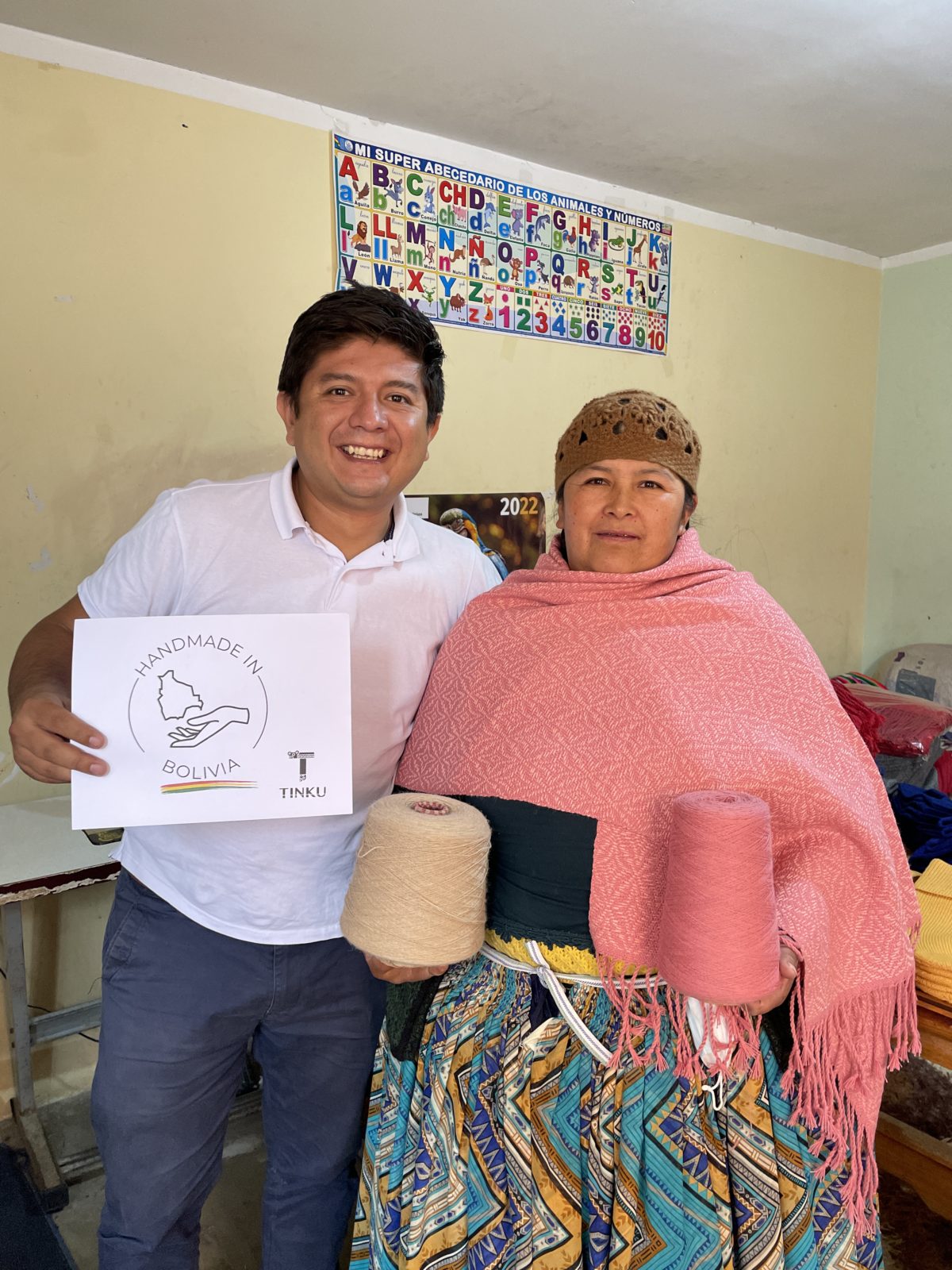 "We are committed to fighting poverty and inequality and are passionate about supporting the Bolivian economy. "

Eliana Garrón Liendo
What problems do you see around the product alpaca knit and in regional production?
There is still a lot of educational work to do to make consumers understand the advantages of pure alpaca wool and also to justify the price of high-quality products. In addition, the possibilities for certification are not suitable for our breeders. It is unrealistic for every alpaca breeder to be able to go through certification processes, primarily because of the cost. We try to compensate for this with a lot of transparency in our communication, but German consumers attach great importance to certificates. Also, in Bolivia, the demand for alpaca textiles has fallen sharply since COVID. Little tourism has meant that many people who earned their income through the value chain are now doing something completely different. We also see a need to catch up in the punctual delivery of goods: alpaca breeders are usually also growers of quinoa etc. or have other activities. The focus that is placed on weaving and knitting is very dependent on the season. There is furthermore a risk that knowledge will be significantly lost. Many children of our weavers migrate to the city for work, so traditions around textiles are not passed on.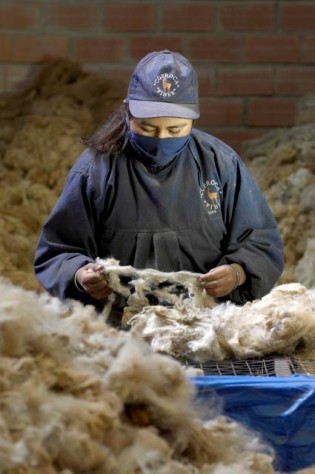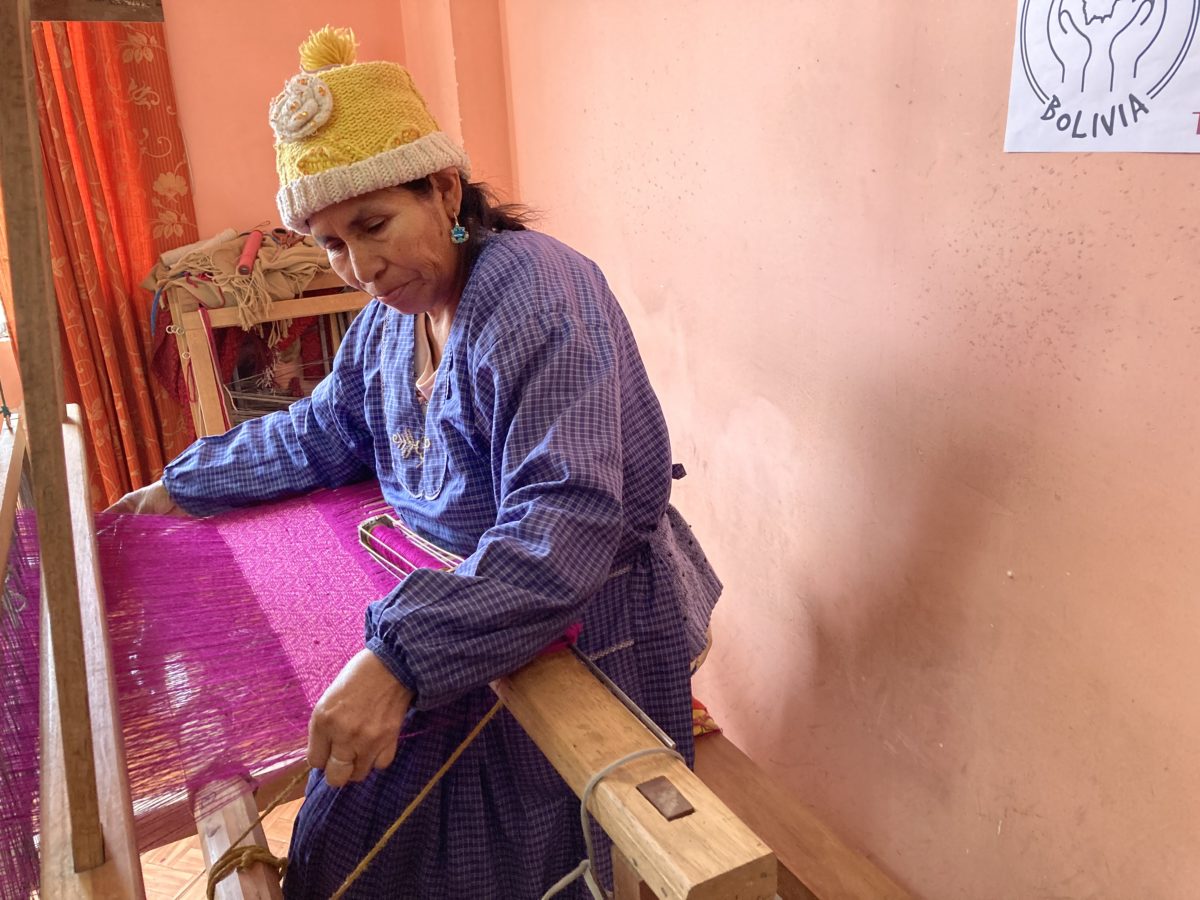 What needs to change in terms of consumption?
Consumption should be more consciously about a style, not a trend. Things should be bought when they are needed. You should also invest in products that can be worn for years. It is essential to reduce the unnecessary and only buy things that really bring value and joy. And when products are bought, they should be sourced fairly and with respect for the environment and the community in which they are made. Brands, in turn, should place more value on the people behind the work. It is important to create collections that bring added value to the consumer and focus on the materials that are processed.
"Passing positive feedback on to our weavers gives us a lot of strength and motivation to continue with our project."

Eliana Garrón Liendo
What is one of the most impressive experiences for you in connection with your work?
My brother Gonzalo and I started TINKU together. Neither of us comes from the fashion industry, so we've had a steep learning curve. Our motivation has always been very strong because we believe that our knowledge, our experience and our Bolivian spirit can change our lives. More importantly, these can change the lives of others. We are committed to fighting poverty and inequality and are passionate about supporting the Bolivian economy. We care about people, planet and culture. It is always very impressive to see at trade fairs and markets how people fall in love with our brand and products, especially our WARA scarves. The design was created in Bolivia by the weavers themselves, who know little about Western fashion. It's the timeless, simple look and the quality of the materials that wins people over. Passing this feedback on to our weavers, bringing this happiness to Bolivia gives us a lot of strength and motivation to continue with our project.
By the way, TINKU means 'meet – encounter' in the Quechua language. There is an annual ritual of the same name that is practiced primarily in the south of the Bolivian Andes, where men and women from different communities meet. The celebrations begin with a dance. At the same time, TINKU is also a synonym for fight, for the approximation of different positions or opinions, for shock and even confrontation. Culturally, the term also refers to a folk music style of the same name. TINKU therefore means a communal ceremony, approximation, fight and spiritual celebration. The choice of the name TINKU stems from the obligation to meet, to dialogue and to cooperate on an equal footing, without forgetting the spirit of the fight against poverty, inequality and injustice.
Discover more