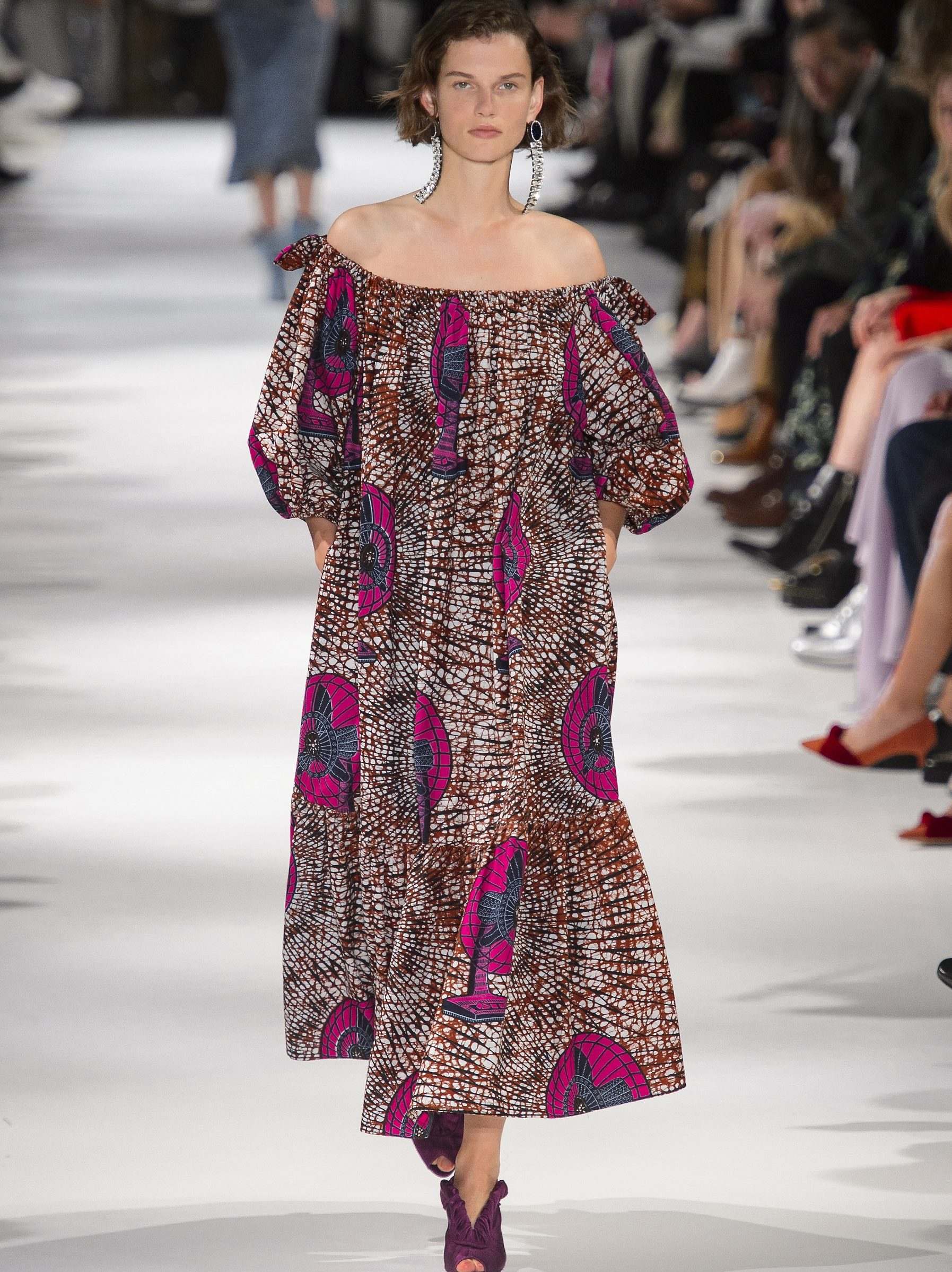 TRENDSPOT
African Patterns
Striking, color-intensive patterns are typical of the African continent. Lively animal prints, large flowers, distinctive stripes and decorative ornaments characterize the picture in fashion, the color palette encompasses the entire spectrum of bright tones. In West Africa, in particular, striking motifs have a long tradition, but they are not simply the subject of optics. Images of everyday objects or animals often represent a symbol for a certain status, story or way of life. Wax prints can be called in connection with symbolic, very expressive designs. Wax prints are patterns that are applied with wax stencils to finished fabrics. The color intensity of the fabric is evident on both its front and back. Historically, however, wax prints are not an invention of the African continent. It was the Dutch who introduced this type of substance to their colonies in the 19th century.
or the spring / summer 2018 season, the designer Stella McCartney presented womenswear looks that take up the theme of wax prints as a motif. For spring / summer 2019, Roberto Cavalli is combining animal looks with bright colors. The blogger and trendsetter scene is currently showing the extent to which the trend towards African-style sample images has already arrived on the street, which, with an increasing tendency, gives the best outfits, although not necessarily interpreted boldly.
Plakative, farbintensive Muster sind typisch für den afrikanischen Kontinent. Lebendige Animal Prints, großflächige Blüten, markante Streifen sowie schmuckvolle Ornamente prägen das Bild in der Mode, die Farbpalette umfasst das gesamte Spektrum leuchtender Töne. Insbesondere in Westafrika haben auffällige Motive Tradition, dabei sind diese nicht nur einfach Gegenstand der Optik. Oftmals stellen Abbildungen von Alltagsgegenständen oder Tieren ein Symbol für einen bestimmten Status, eine Geschichte oder Lebenseinstellung dar. Im Zusammenhang mit symbolträchtigen, sehr expressiven Designs lassen sich Wax Prints nennen. Wax Prints bezeichnen Muster, die mit Wachsschablonen auf bereits fertige Gewebe aufgetragen werden. Die Farbintensität des Stoffes zeigt sich sowohl auf seiner Vorder- als auch Rückseite. Geschichtlich gesehen sind Wax Prints jedoch keine Erfindung des afrikanischen Kontinents. Es waren im 19. Jahrhundert die Niederländer, die diese Art von Stoffen in ihren Kolonien einführten.
Zur Saison Frühling/Sommer 2018 präsentierte die Designerin Stella McCartney Womenswear Looks, die das Thema Wax Prints als Motiv aufgreifen. Roberto Cavalli kombiniert indes für den Frühjahr/Sommer 2019 Animal-Optiken mit leuchtenden Farben. Inwieweit der Trend um afrikanisch anmutende Musterbilder bereits auf der Straße angekommen ist, verdeutlicht aktuell die Blogger- und Trendsetter-Szene, die mit steigender Tendenz entsprechende Outfits zum Besten gibt, wennauch nicht zwingend plakativ interpretiert.
Discover more