We intent to increase the visibility of fashion with purpose.
NINA ELYAS & TAYS KÖPER-KELEMEN
In the ten years we have been working in the fashion industry, we have noticed one thing above all: individual design, craftsmanship and different cultures give fashion the beautiful face that stands out from the mainstream. We want to show this face in its creative and valuable facets.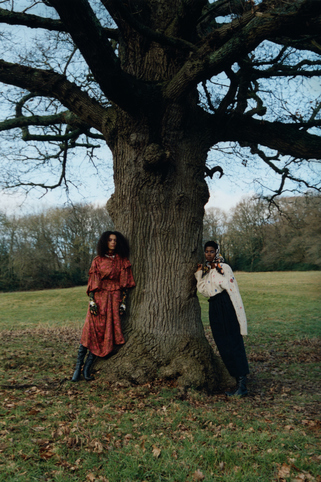 NINA ELYAS & TAYS KÖPER-KELEMEN
The fast fashion boom is over. The dominance of chain stores, fashion giants and a gigantic production empire in the Far East are increasingly being questioned and criticized. The market is reshaping: a fundamental change in values ​​in the fashion and consumer world.
Numerous new and young brands flood the market with ideas and concepts. Sustainability was the first anchor point of a strongly criticised industry. Caused by climate change and increasing reports of and about serious environmental pollution. Far too late, Rana Plaza drew attention to further grievances. It's not just about nature, it's also about people and humanity. About working conditions, appreciation at eye level and fair cooperations from which not only one side benefits and is seen and the other leads a dark shadowy existence. 
We show brands and designers, that cultivate a valuable approach to clothing. Far from the image of the superficial consumer good that fashion has become. Traditional handicrafts, rare vintage fabrics, recycling and upcycling, culturally influenced styles, impressive designs and valuable attitudes towards consumption and fair social behavior. Their DNA is sustainable – their design is unique – their skills are professional.
Our curated brand selection is based on following criteria:

ETHICALLY
Working conditions that do not harm people – fair vages, respectful interaction with employees and appropriate working conditions

SOCIALLY
Brand concepts that are based on the intention to solve social problems. Through their initiatives they create positive changes in society

LOCAL – ARTISANAL
Preserving cultural heritage, local characteristics, traditional craftsmanship and unique skills.

ENVIRONMENTAL
Sustainable behavior towards consumption, over-production, sourcing, manufacturing and designing clothes that reduce environmental impacts

UPCYCLED – RECYCLED
Circular fashion systems. Converting waste in reusable materials. Reusing materials, vintage and deadstock fabrics to reduce waste

DESIGNED
Unique one-of-a-kind, long lasting quality products apart from mainstream replaceable fashion items.